There BETTER Be An "I" In Team
Keynotes > There BETTER Be An "I" In Team
Before you can lead others, you must have the ability to lead yourself. 
Leadership is a popular term and hot-topic in the business world, and rightfully so. Leaders have a direct impact on how successful an organization is; unfortunately, not all leaders naturally have the skills to set the pace, set the bar, and drive a group's collective efforts towards accomplishing the most important goals. As impactful as good leadership is, poor leadership can be equally impactful, albeit in the opposite direction. Leaders who fail to recognize the role they play or the impact they have on others can leave employees feeling lost, unmotivated, and paralyzed to step outside their comfort zones. The results? Decreased revenue, low morale, and poor performance overall.
In There Better Be An "I" In Team, JJ Birden explains the principles of leadership and team dynamics he learned playing at the highest level in the NCAA and NFL. The heart of his message is clear: "To lead a team, it's imperative you can lead yourself first. The team's success is dependent on your success!"
This dynamic, engaging keynote presentation will help develop and strengthen the leaders within your organization.
Key Takeaways from There Better Be An "I" in Team:
Defining your personal leadership style and communicating it to your team
Clearly stating your expectations as a leader
Creating a championship environment
Identifying "star players" on your team and elevating their game
Empowering and inspiring your team to do whatever it takes to win
Get all of the JJ Essentials
JJ provides newsletter, blogs, videos, and exclusive motivational updates. And it's FREE!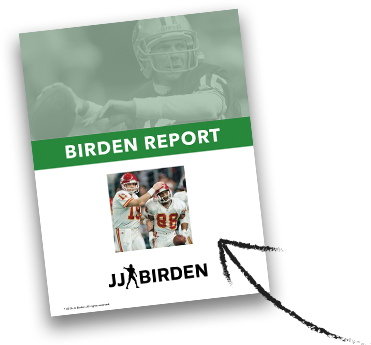 Plus FREE Bonus Coaching Tips:
Top 8 Takeaways From Playing with Hall of Fame Quarterback Joe Montana