About JJ Birden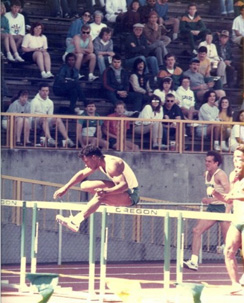 Born and raised in NE Portland Oregon, JJ attended Lakeridge High School in Lake Oswego, Oregon. He earned a track & field scholarship to the University of Oregon. After running competitively his first year, he begged Oregon's then head football coach Rich Brooks for a chance to "walk on" the football team. He was determined to show coach Brooks that even at 5'10" and 150 lbs, he could play college football. JJ made the team that year and is considered the first track star to successfully walk on and excel at football for the Oregon Ducks. He continued to standout in both football and track & field during his remaining years in Oregon.
JJ was a standout track & field athlete, winning all Pac-10 and All-American honors his junior year and qualifying for the 1988 Olympic Trials in the long jump. He was recently inducted into the Oregon Athletic Hall of Fame as part of the Oregon Ducks 1985 NCAA Championship team.
JJ was drafted in the 8th round of the 1988 NFL draft by the Cleveland Browns. After the draft, he attended the Cleveland Browns rookie camp. Following a promising start, he suffered a knee injury, tearing his ACL during the third practice. The injury immediately ended his track career.
Since JJ was only one internship away from graduating from the University of Oregon, the Cleveland Browns invited JJ to complete his internship by working in their public relations and sales departments that Fall. JJ graduated from the University of Oregon in 1989 with a Bachelor of Science Degree in Sports Marketing.
Football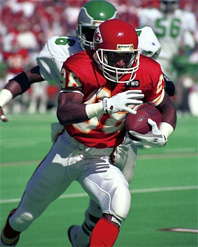 Playing in the NFL was not part of JJ's dream. He rested his hopes on making the 1988 Olympic Track & Field team. However, after the knee injury in the Cleveland Browns rookie camp, his attention moved towards the NFL. He went on to have nine successful years in the NFL playing for such teams as the Cleveland Browns, Dallas Cowboys, Kansas City Chiefs and the Atlanta Falcons.
JJ played with some of the best players who ever played the game, such players as Bernie Kosar, Troy Aikman, Ed "Too Tall" Jones, Derrick Thomas, Marcus Allen and Joe Montana. When asked what was the highlight of his career, JJ responded, "It would be the 1993 season with the Kansas City Chiefs. Two extraordinary things happened that year; we made it to the 1993 AFC championship game, and that was the year I got to catch passes from one of the greatest Quarterbacks to ever play the game, Joe Montana." JJ retired from the NFL in 1997. See JJ's highlight film. (YouTube)
Family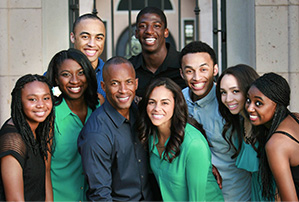 JJ married his college sweetheart Raina DeLeon in 1990. They have 3 children together, LaJourdain Jr. (23), Dante (21) and Camille (19). Due to JJ's NFL career, the Birden's have lived in various cities: Lee's Summit, MO; Suwanee, GA; and Tigard, OR. They now reside in Scottsdale, Arizona.
In 2007, JJ unexpectedly received a call from his nephew in Tulsa, OK. The following day he was on a plane to Tulsa, to check on his 5 nieces and nephews. During this visit, JJ discovered his nieces and nephews were to be placed in foster homes. After consulting his wife, they were awarded full guardianship of the children, Justin, LaShawn, Brandon, Aaliyah and Alishia. He brought them back to Oregon (where they were living at the time) to live with them.
Although some have questioned the Birden's decision to go from a family of 5 to a family of 10, JJ says, "Sometimes you have to do what you have to do to support your family. Plus, Raina and I cared for our nieces and nephews and could not see ourselves abandoning them." To this day, there is never a dull moment in their household. They are a close-knit family who strives to put family and spirituality first, which they believe has contributed to an exciting and happy family life.
"JJ is the consummate pro.  His devotion to family, strong work ethic, courage, dependability, perseverance through difficult times, including economic limitations and serious injuries, and unflappable positive outlook no matter the circumstance makes him one of the few people I personally have looked to for advice and friendship when it has been most needed. His book will undoubtedly strengthen my vision and yours as we move forward in life."

"I had the pleasure of not only coaching a great athlete but watching a young boy grow into a man. JJ didn't come from wealth or privilege – far from it – but he never used his background as an excuse. What he did to make himself into the man he is today is detailed in his book and should be required reading for those who find themselves in difficult circumstances. JJ looked at life as a challenge and he made the choice to climb upward."

Tom Smythe
Lakeridge High School Football Coach

"When the Chiefs signed JJ many of us thought he was training camp fodder and gave him no chance to make the team. But every time he got onto the field he took advantage of the opportunity to do something special. He was meticulous in his prepartation and never let his lack of NFL size stop him from finding a way to be successful. He has taken the same attention to detail, attitude and hard work that allowed him to be successful in the NFL into life after the game and is sharing the lessons that helped him succeed"

Kent Pulliam
Kansas City Star Reporter who covered the Chiefs/NFL

"JJ Birden is one of the most self-motivated, dynamic athletes, individuals that I know. He's been that way since he was a difference maker at Lakeridge High School, at the University of Oregon, making his mark in the NFL and now influencing people's lives and the business world in a very positive manner! JJ is a wonderful husband; father, family man, and I have nothing but great love and respect for him as a friend and as a person!"

Chris Miller
Former Oregon Ducks and NFL All-Pro Quarterback

"I have known JJ Birden for many years now. First as a high school Track & Field coach who had to prepare athletes to compete against him; then as one of his college coaches who got the opportunity to coach and prepare him; and finally as a coach who got to work with him from time to time as a professional. In any and all settings and over all of these years I still consider him to be one of the finest athletes we have ever been involved with. It is not because of the immense physical abilities, which there was aplenty, but from the enormous mental capabilities, the ones you always read about yet do not always see, like positive attitude, perseverance, presence in the moment, and pleasure in the pursuit. These are the great athletic qualities that are admired and always remembered."

James Radcliffe
University of Oregon Strength and Conditioning Coach

"JJ is someone that I greatly admire and respect, not just because he was a world class professional athlete, but also he continues to maximize his potential in all other aspects of life (family, business, health). My career in the fitness business has exposed me to a plethora of current and former elite athletes... And I consistently refer to JJ as a role model because he continues to shine off of the field and positively impact the lives of so many people."

Jarod Cogswell
Founder, Enterprise Athlete, Inc.
Author of Work Like an Athlete