About JJ Birden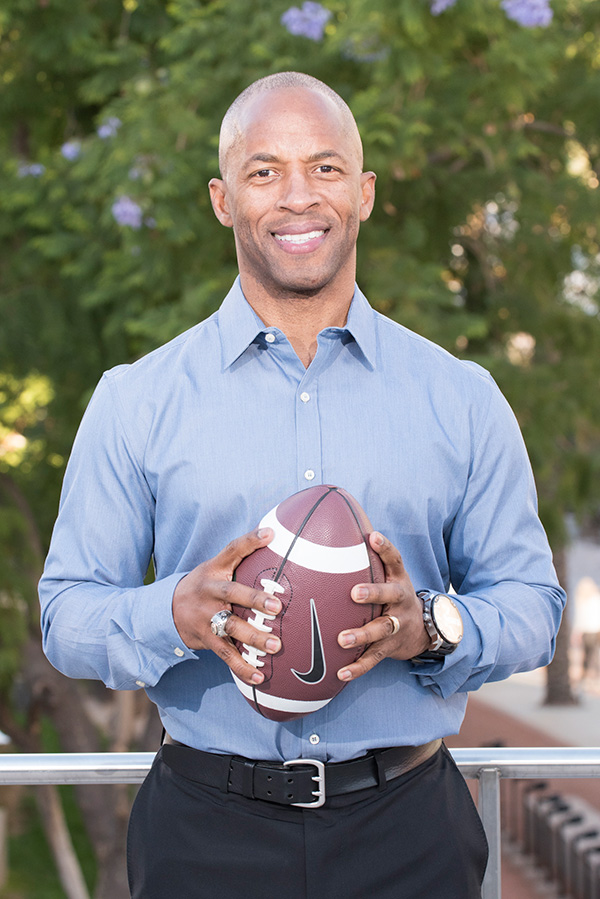 A Small Man in a Big Man's Game
To appreciate the Hero's Journey that is JJ Birden's life, you must first know a few important facts:
Less than 6% of high school seniors go on to play college football
Of the 150,000 draft-eligible college football players, only 253 (less than 1%) are selected in the NFL draft
The average NFL career is less than 2 years
The average NFL player is 6'2, 245 lbs.
JJ played in the NFL for nine years at 5'10 157 lbs!
The odds of making it to the NFL are staggering. The odds of staying in the NFL are even more amazing. The odds of doing both are the most astronomical of all when you're undersized and play one of the sport's most physical positions. Good thing JJ Birden never cared about the odds of success.
Despite being the #1 high school wide receiver in Oregon, JJ didn't receive a single D1 scholarship offer. He was fast enough for sure, but at 5'9 and 133 lbs., JJ was just too small to play with the big boys. At least that's what the naysayers thought; JJ knew he was good enough, and he set his mind to achieving the impossible. All he needed was an opportunity, no matter how small, even if it meant making his own.
"JJ is the consummate pro.  His devotion to family, strong work ethic, courage, dependability, perseverance through difficult times, including economic limitations and serious injuries, and unflappable positive outlook no matter the circumstance makes him one of the few people I personally have looked to for advice and friendship when it has been most needed. His book will undoubtedly strengthen my vision and yours as we move forward in life."

"I had the pleasure of not only coaching a great athlete but watching a young boy grow into a man. JJ didn't come from wealth or privilege – far from it – but he never used his background as an excuse. What he did to make himself into the man he is today is detailed in his book and should be required reading for those who find themselves in difficult circumstances. JJ looked at life as a challenge and he made the choice to climb upward."

Tom Smythe
Lakeridge High School Football Coach

"When the Chiefs signed JJ many of us thought he was training camp fodder and gave him no chance to make the team. But every time he got onto the field he took advantage of the opportunity to do something special. He was meticulous in his prepartation and never let his lack of NFL size stop him from finding a way to be successful. He has taken the same attention to detail, attitude and hard work that allowed him to be successful in the NFL into life after the game and is sharing the lessons that helped him succeed"

Kent Pulliam
Kansas City Star Reporter who covered the Chiefs/NFL

"JJ Birden is one of the most self-motivated, dynamic athletes, individuals that I know. He's been that way since he was a difference maker at Lakeridge High School, at the University of Oregon, making his mark in the NFL and now influencing people's lives and the business world in a very positive manner! JJ is a wonderful husband; father, family man, and I have nothing but great love and respect for him as a friend and as a person!"

Chris Miller
Former Oregon Ducks and NFL All-Pro Quarterback

"I have known JJ Birden for many years now. First as a high school Track & Field coach who had to prepare athletes to compete against him; then as one of his college coaches who got the opportunity to coach and prepare him; and finally as a coach who got to work with him from time to time as a professional. In any and all settings and over all of these years I still consider him to be one of the finest athletes we have ever been involved with. It is not because of the immense physical abilities, which there was aplenty, but from the enormous mental capabilities, the ones you always read about yet do not always see, like positive attitude, perseverance, presence in the moment, and pleasure in the pursuit. These are the great athletic qualities that are admired and always remembered."

James Radcliffe
University of Oregon Strength and Conditioning Coach

"JJ is someone that I greatly admire and respect, not just because he was a world class professional athlete, but also he continues to maximize his potential in all other aspects of life (family, business, health). My career in the fitness business has exposed me to a plethora of current and former elite athletes... And I consistently refer to JJ as a role model because he continues to shine off of the field and positively impact the lives of so many people."

Jarod Cogswell
Founder, Enterprise Athlete, Inc.
Author of Work Like an Athlete

Unique, motivated, intelligent. My late husband and I taught and coached thousands of young people hoping they would live up to their potential. Most went on to careers and happy lives. A few became pro athletes, musicians, community leaders, and Olympians. What sets J.J. apart from most people is the energy he uses to focus on activities that add value to his spiritual, physical, and mental well-being. Do no harm is well and good as a goal. JJ takes it a step further and does more good. He is effective as a motivator to others, enabling them to see what they can accomplish. It will be interesting to see who he gathers together for his next big project. I am sure it will do more good, and for that I am thankful.

Carol Walden
Albina Road Runners Track Coach

JJ Birden's many gifts have included world-class athleticism, a mighty heart and a stylish grace in the way he conducts himself, in the arena and outside of it.

Ken Goe
Sports Writer for the Oregonian