JJ Birden Former NFL Wide Receiver Shares His 1988 NFL Draft Experience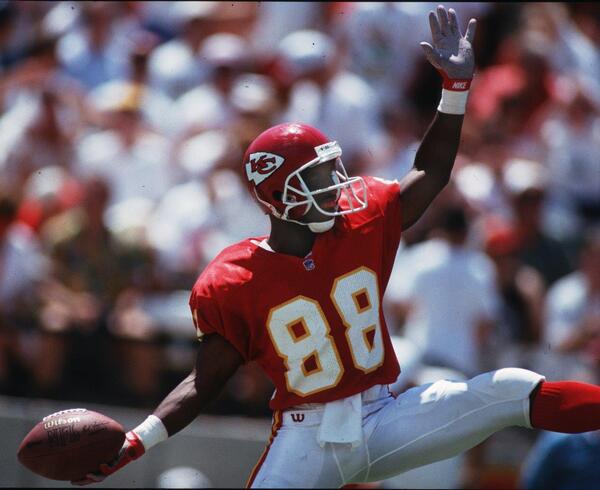 Many times when you read about an NFL players draft story, it sounds rather familiar. It's fair to believe that most NFL players contemplated about the day they would play in the NFL. Everything they did in high school and college was all in preparation of reaching that goal. So as soon as draft day came along it was a mere formality. In spite of this that wasn't the case for me.
Playing in the NFL was one of the farthest thoughts from my mind. I believe the first time I heard my name and the NFL mentioned in the same sentence was my final year at Lakeridge high school in
Lake Oswego Oregon.  My Uncle Sonny, following one of my games, said I would be playing in the NFL sooner or later. His belief was so strong that he even had me promise to give him my first touchdown ball.  I instantaneously told him he was crazy.
I had the privilege of attending the University of Oregon on a Track & Field scholarship. So track was my most important focus. Although I had an outstanding high school football career, no Division I schools recruited me to play football.  I took that personal and it prompted me to prove them wrong.  As I was being recruited by the various Division I colleges for track and field, I always asked the track coaches what they thought about me playing football too.  All the major schools said not a chance! There were a few smaller Division II schools that were accepting of it but I had my heart locked in on Division I.  To my surprise the University of Oregon was the only school that did not baulk at the idea of me playing football. The agreement was if I participated in track the first year, the track coaches would do all they could to get me a chance to walk on the football team. For me, that was all I wanted, an opportunity.
Although I had an outstanding high school football career, no Division I schools recruited me to play football.  I took that personal and it prompted me to prove them wrong. 
The following year I had to plead with the Oregon's head coach Rich Brooks for a chance to play. He eventually came around and agreed. When he said yes, all I could think about was "opportunity is knocking" and I was about to blast threw the door! Once more my motivation was not to play in the NFL, it was just to prove everyone wrong.  I might have been little in size but I knew I could unquestionably play with the professionals.
 Fast-forward to the 1988.  At this point I played four years of football and also ran track for the Ducks. Throughout those years, I did not have the most impressive college football career.  I experience two serious injuries' which caused me to play only half of the season of my junior and senior years. In spite of these setbacks, I still got invited to the NFL combine. 

This is where they test the top 300 college football prospects to see if they are NFL prepared and what rounds they should be chosen in. I heard I was actually one of the last to be invited. The thoughts about me circulating were that I was a mystery track athlete who could actually catch the ball.  That view point did not bother me given that I was all about "seizing this opportunity." 
After the combine concluded, it was time to totally focus on my senior year in track and field.  I was truly looking forward to my senior year in track. I was the defending champion in the Pac-10 for the long jump, I made it to the NCAA's Track and Field Championship the previous year and place 8th in the long jump. This qualified me  for the All-American track team in the long jump.  I was planning on a BIG senior year.  Yet what took place on April 25th 1988 changed all that.
April 24th, was the first day of the 1988 NFL draft. By now I had an agent Frank Bauer of Sunwest Sports. Frank sensed I had a small chance of being drafted on the first day of the NFL draft. Unfortunately I did not have the same belief as him. Therefore I did not pay attention to day one of
the NFL draft and decided to go to class. Even though I attended the combine and did quite well, I still was not convinced I would be drafted into the NFL. I remember seeing the other great wide receivers like Tim Brown, Michael Irvin, Sterling Sharp and Anthony Miller there. While I was the little anonymous WR at 5'10 and 155 lbs, who in fact wasn't sure he belonged there. 
The second day of the NFL draft, I had the same plans of going to class.  After going back and forth with my agent again on whether or not I should stay in my apartment or to go to class, my roommate Rod Green (the other starting Oregon wide receiver) urged me to pay attention to my agent.  Rod said, "You know maybe he's right you might get drafted. He knows these things that's why you hired him as your agent."  I listened to him and kept in my room and continued to wait.  A short time after that the moment started to become surreal because I received calls from two NFL teams, the New York Giants and Tampa Bay Buccaneers. Both essentially told me if I'm not drafted they would like me to sign with them as a free agent. I remember thinking to myself this is really going to come about; I will be in the NFL. The thought was still crazy to me but it was evident something was about to occur.  

I can't recall the precise time but I remember lying on my single bed and I suddenly received a phone call that entirely blew me away. I picked up the phone and the voice on the other side said, "Is this JJ Birden?"  "Yes" I responded.  "This is Marty Schottenheimer."  I fired back, "Who is this?" "Marty Schottenheimer head coach of the Cleveland Browns."  I asked, "Is this a joke?" "No it isn't and we just drafted you kid and we are excited for you to join the Cleveland Browns family.  I responded, "oh so this is for real? I guess my agent was right."  Marty said, "What?"  "Never mind" I answered.  After that I spent the next ten minutes talking to him about what I was doing and when I would be in Cleveland. My heart was beating like crazy during the entire conversation. I just kept announcing to myself, "I am going to the NFL, no way!" Once we concluded our conversation, Frank calls me and without delay said, "8th round Cleveland Browns!"  (Clink the link if you would like to see the re-enactment of the conversation between Marty) 
Soon as Frank and I finished talking, someone called on the other line.  When I clicked over to answer, it was the General Manager of the Washington Redskins Bobby Bethard.  He was calling for my roommate Rod. He ended up signing with them as a free agent. 
Nonetheless, this was a special day for us in our modest apartment in Eugene Oregon.  A moment I will always enjoy. What I am most pleased of is the simple fact I was the 216 pick in 8th round of the
1988 NFL draft.  They don't even have 8 rounds any longer. At 5'10 157 lbs, I went on to play 9 years in the NFL. Which was much longer than many of players who were drafted in front of me. I would say I proved clearly the doubters were wrong. 
This weblog is a little example of what I will be discussing in my impending book When Opportunity Knocks, 8 Surefire Ways to Take Advantage!  In it I go on to talk about many stories from my NFL career and link them to eight principles to assist you to "seize your opportunities" in life. To learn more go to www.jjbirden.com
See JJ's NFL highlight film at www.jjbirden.ws
If you have any questions, please feel free to leave a comment and I'll get back to you. Don't forget to subscribe to my Youtube channel, and connect with us on Facebook, Twitter and Instagram.
Comments (2)