Water the Bambo Podcast Interview With Greg Bell and JJ Birden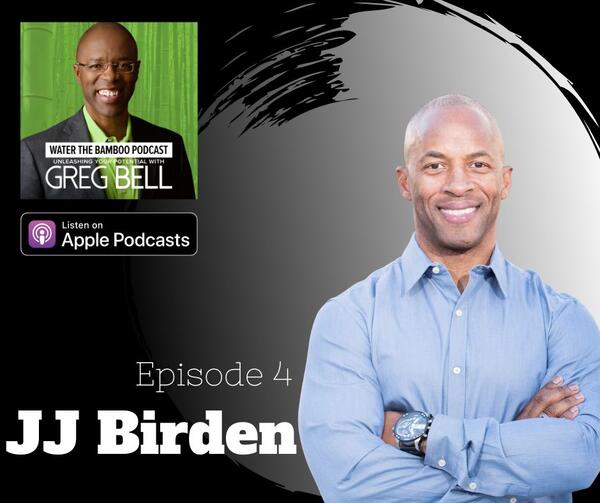 It was an honor to be on Greg Bell's Water the Bamboo: Unleashing Your Potential Podcast.
Greg is the best-selling author of the book "Water The Bamboo." He's an accomplished keynote speaker and expert problem solver.
I first met Greg back at the University of Oregon, where he was known for his basketball skills while playing for the Oregon Ducks basketball team. However, what always impressed me about Greg was he was more than just an athlete. After graduating, he went on to study law and worked as a lawyer for sometime before becoming a professional speaker.
Listen in on our discussion as he allows me to share what it means to put in the work to achieve huge goals.
After listening, you are welcome to share one takeaway that resonated with you in the comments below.
Episode Highlights:
01:07 - How JJ got into football

03:53 - Did JJ have any doubts about making it

05:44 - How JJ went from being a 5 ft 9 in walk-on to having a 9-year NFL career

09:08 - How JJ recovered from a torn ACL 

15:33 - What drove JJ to push past the rejections

19:21 - Where JJ believed he could make an impact

22:32 - How to keep focus

25:47 - The impact JJ's kids have had on his life

31:29 - Why you decided to start doing speaking

34:23 - How JJ grew his career through building relationships

37:19 - What JJ is most proud of in his career

39:33 - What advice JJ would give to his younger self

42:19 - How JJ handled the naysayers

50:18 - The Impact Greg made on JJ at the University of Oregon
BRING JJ BIRDEN IN TO SPEAK TO YOUR TEAM!
If you have any questions, please feel free to leave a comment and I'll get back to you. Don't forget to subscribe to my Youtube channel, and connect with us on Facebook, Twitter and Instagram.
Comments (0)