Why Set Goals?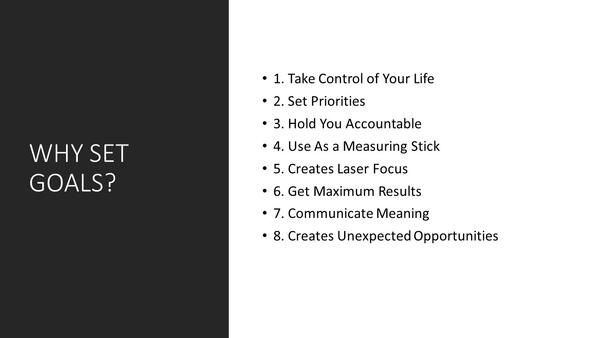 WHY DO YOU FEEL THAT WAY ABOUT SETTING GOALS???
I saw a few negative comments recently on social media about setting goals. Some seem to be annoyed with the subject of goals, while others didn't see the benefits of setting them. Whatever your viewpoint is, I believe there are many positive reasons to set goals. Doing so has made a difference in my life.
I typically set goals throughout the year and not just when there's a new year coming up. Yet I do feel there is something special about setting new goals to kick the year off. It's like a fresh start, with new focus and determination as another year begins. 
Take a look above. There are my Top 8 Reasons To Set Goals. Which one stands out to you? Is there a benefit you would add? Is there one you would replace? 
BRING JJ BIRDEN IN TO SPEAK TO YOUR TEAM!
If you have any questions, please feel free to leave a comment and I'll get back to you. Don't forget to subscribe to my Youtube channel, and connect with us on Facebook, Twitter and Instagram.
Comments (0)