In Spite Of...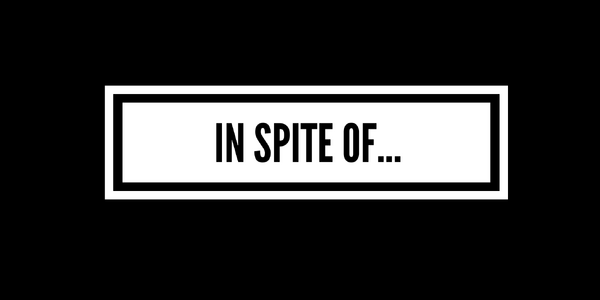 In Spite of what? Tell me? What's your "In Spite Of" moment? Everyone has one and you either conquered it, or it conquered you!
I am going to be experimenting with some content revolving around this topic. Could turn into a new keynote presentation or perhaps even book number two. The point is, my goal is to send a clear message that "In Spite Of" of what life throws your way, you can win.
I'm fascinated with the subject matter because over the years as a motivational speaker, after speaking at events, some of the feedback I receive from my audiences is very similar. The response I commonly hear is, "Can't believe what you've achieved in spite of…" They usually follow up with, "If you could overcome all the challenges through the years to reach the level of success as a family man, athlete, and entrepreneur, then I know my goals and dreams are possible."
I would love to hear one of yours. I'm sure you have an accomplishment you're very proud of because of the challenges you faced in achieving it. Probably qualifies for the "they see the glory but don't know the story" quote.
  In Spite Of what life throws your way, you can win!
Let me start this off, one In Spite Of moment I'm proud of is playing nine years in the NFL because it was not a promising start for me. I tore my ACL before the season started my rookie year. The following year I was cut. Then over the next five days, I visited four NFL teams and all rejected me. Dallas Cowboys picked me up a few weeks later. I never played in a game during that season. Once the season concluded, head coach Jimmy Johnson said to me, "I don't think you'll be able to make it in the NFL." Fortunately, I didn't allow his opinion to sway me. I knew he was too busy looking at my 5'10 157 lbs stature. Jimmy couldn't measure what was on the inside, the heart and he had no idea how bad I really wanted to prove him and everyone wrong. Two months later, I was signed by the Kansas City Chiefs and the rest is history. I ended my nine-year NFL career on my terms.
There're many teaching points within the story, and that's where I want to pull from to inspire others. Now let's hear yours.
Stay Positive,
JJ
P.S. Be sure to subscribe to my YOUTUBE channel to access more empowering content.
If you have any questions, please feel free to leave a comment and I'll get back to you. Don't forget to subscribe to my Youtube channel, and connect with us on Facebook, Twitter and Instagram.
Comments (0)