How Do You Seize The Right Opportunity?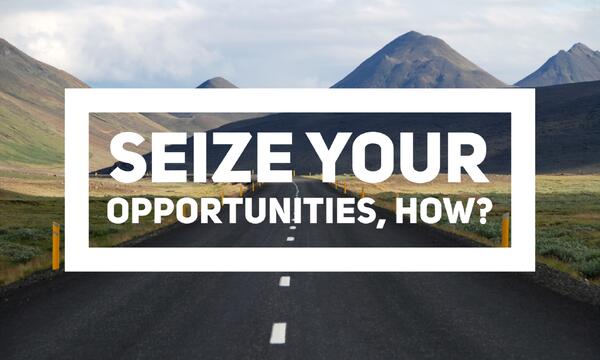 After writing my Amazon best-selling book When Opportunity Knocks 8 Surefire Way To Take Advantage, as expected I'm often asked "how do you seize the right opportunity?
Before providing the answer, I like to respond with the question, do you realize what an opportunity is?  You'd be surprised how many people quickly think of getting involved in a ground floor business opportunity as the correct answer. Although that may qualify; still it can be much more. To be clear, an opportunity can be anything you want. Something you desire to have, achieve or perhaps improve at. I know, it's a vague and simple definition, but I'm trying to help you understand it could be anything that catches your attention. Even though I cover this in detail in my book, here's three simple tips:
Do you know what you want?

- This is the starting point! Knowing what you want will play a role in your ability to seize it.  If you do, you can put yourself in situations that can present you with the right opportunity.  Like most things of value, it's going to take effort and commitment to seize it so make sure it's something you're excited about.  If not, the distractions of life will quickly knock you off course.

Pay Attention

- This piggybacks off the first point, to pay attention, you have to be alert to what to look for. Knowing what you want will assist you here. Sometimes opportunities don't just come out and smack you in the face. It might take a little time for you to realize your moment. If your vigilant, and you know what to look for, you'll recognize it at the right time.

Create it

- It doesn't always work out correctly therefore sometimes you just have to create the opportunity. One example I can share occurred my freshmen year at the University of Oregon. I was there on a track and field scholarship but still had a desire to play football.  Since the coaches thought I was too small, I had to figure out a way to prove them wrong. After several weeks of watching practices in the stands hoping head coach Rich Brooks would notice me, I had to get more aggressive.  The following week I stood on the field and watched. That got his attention right away! Coach Brooks came over to me to ask me why I had been watching practice. The next day I was in his office convincing him I could play. From there you can say the rest is history.  I'm confident that by creating the opportunity, it eventually gave me the chance to play in the NFL. Just think if I had sat around upset about the fact the coaches figured I was too small or I blamed everyone else and

claimed: "life is not fair." There would have been no NFL and no catching touchdown passes from Joe Montana.
Again the point is if you want it and the opportunity to seize it doesn't create itself, then you have got to figure out a way to construct the pathway yourself to get what you want.
They're my three tips, now put them into action and go "seize your opportunities!
Do you have a story of seizing or creating your opportunities?  Please share below. 
If you have any questions, please feel free to leave a comment and I'll get back to you. Don't forget to subscribe to my Youtube channel, and connect with us on Facebook, Twitter and Instagram.
Comments (0)