Jarryd Hayne, Making the impossible, POSSIBLE!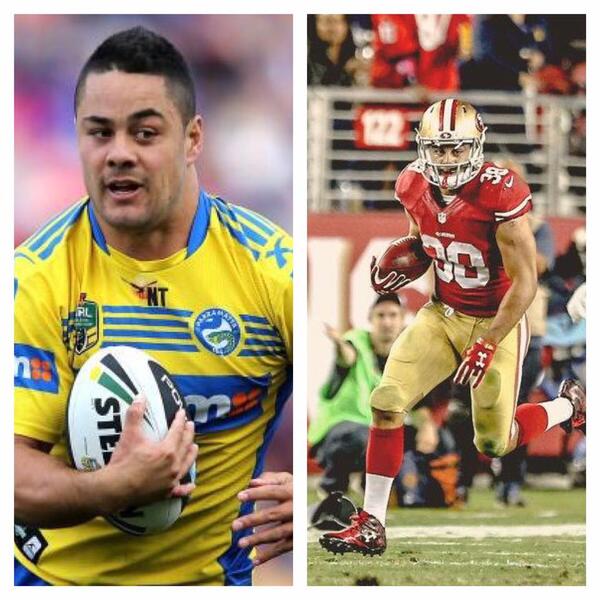 I am certain all of us at some point had a dream.  A dream to accomplish some insurmountable goal. A goal that when you thought about it, it made you quiver. Yeah, it was that good and that big. Yet at some point in the thinking process, you reached the decision it was just too impossible to achieve. Therefore you gave up and moved on to another goal that wasn't so intimidating.  Despite this, you never forgot about the goal that scared you and from time to time you would think, "what if?"
If this is you, then you must hear about the story of Jarryd Hayne.  Hayne had a dream, which turned, into a goal. It was to play in the NFL. Hayne was a super star National Rugby League player in Australia. Recognized as the Michael Jordan of rugby in Australia, he never played American football let alone understood the rules of the game. Despite this, he was determined to get his opportunity.
When I first heard of the story, I immediately became intrigued with it. Having played nine years in the NFL myself, I know it is not an easy task.   It is even more challenging for someone who's never played and lives in a foreign country.  I did some of my own scouting of Hayne to assess his talent. After 11 minutes of viewing highlights of him on YouTube, I knew right away he had the athletic ability. Physically he could play with the big boys. The question remained will he get a shot, and if he did could he make the team?
Physically he could play with the big boys. The question remained will he get a shot, and if he did could he make the team?
Fast-forward to the start of the 2015 NFL season and we just learned Hayne made the 53-man roster of the San Francisco 49ers. I was so excited when I heard this because I know exactly what he had to go through in order to achieve such an "impossible" goal.
When the San Francisco 49ers signed him in the off-season, it was the beginning of his journey. Day one, it was all about understanding the rules of American football. I can only imagine what that first meeting was like as he received his first playbook. I'm sure his eyes got wide open with confusion as he was looking at all the different formations, and various schemes.  How about his first experience in an NFL huddle and hearing his first play called? Learning football plays is like learning a foreign language. Every team comes up with their own way of communicating their plays and only their players know what the verbiage means. From and an outsider, it sounds likes gibberish. Here's an example of an NFL play. "Shift to halfback twin right open, swap 72 all go special halfback shallow cross wide open." Yeah I know, but here's a guy who has never been in a huddle and never experienced the process of a quarterback giving you the play and then processing it and immediately knowing what to do.  There is a learning curve and not every football player masters this ability.
So as off-season carries on, he continues to work hard and learn. I followed the San Francisco 49ers updates on social media and I heard positive updates regarding his performances in the practices. Then I think, "Anyone can look good in practice."
The preseason finally begins. Now everyone would get a chance to see what he could do in a real live game. As I watched his preseason games, I notice every time he got on the field, he did something special. Talk about seizing every moment of his opportunity. He made positive play after positive play. I thought to myself, "This kid gets it!"  So with 90 guys invited to the 49ers training camp, he survives the cuts and becomes part of the coveted 53-man roster.
Why is this such an incredible achievement? Let me give you a few stats:
During my time in the NFL, I came across thousands of athletes. All those athletes were amazing. Most were All-American, All-State, and received various accolades throughout their careers. So what's the difference maker for whether an athlete makes it or not? There are many variables, some you can control and some can't. However, one I feel you can control is, understanding the mental part of the game. Possessing the mental capacity and the discipline needed to understand the plays, process the information and know what to do. Then, go out and execute with consistency. Not to mention being able to execute your responsibilities at full speed. The speed of the game in the NFL is unlike any other level. It's usually what young rookies notice right away. The game is much faster in the NFL so to be able to keep up with it, you must be able to play fast. It's hard to play fast if you are thinking too much. I witnessed it first hand as I saw great athletes struggle with the mental part of the game. When receiving the plays, they'd freeze up and could not play up to their abilities. Here lies the X factor, one of the main reasons why great players you've heard of don't make it and a unknown Australian Rugby League star like Hayne makes it. Skills come in many forms and this is definitely a skill set and Hayne has it!
The Jarryd Hayne story is a inspiring story for all. The impossible dream that becomes a reality. Not quite a movie yet but it's a feel good story many can appreciate and learn from.
Quite frankly this story is the perfect representation of my new book When Opportunity Knocks, 8 Surefire Ways to Take Advantage. I have been stressing to many that we all have opportunities in life. Yet to truly seize those opportunities, you must have a plan.  Some opportunities might present themselves on their own or you'll have to go create them. Hayne, puts himself in position to get his opportunity. He prepared for it! Then when he got his shot, he showed up and produced!  To the outsiders it may have seemed impossible but not to Hayne, he knew it was possible. All he needed was an opportunity. Same applies to you. That big goal which might scare you from time to time but it is attainable or rather, it's POSSIBLE! Never forget YOU are th key to making it happen!
Love to read your comments below. Feel free to share.
If you have any questions, please feel free to leave a comment and I'll get back to you. Don't forget to subscribe to my Youtube channel, and connect with us on Facebook, Twitter and Instagram.
Comments (0)